Unique Corporate Swag For 2019
Walking the miles of new products at the Vegas Expo, I've never seen so many exciting new products in any one previous year. The colors, the technology, the retail-level brands, it was almost overwhelming. You really just had to walk and walk before you could begin to get a grasp on the excitement level and creativity of this year's swag. Which is what I did. I am there to deliver for our clients' brands. And I left Vegas more excited than I had been by any other new product expo. Brimming with amazing ideas for our client's best 2019 trade show giveaways. I will have to do a series of blog posts to bring you even half of the amazing new corporate gifts and branding opportunities for your corporate events this year. And I will.
2019 is the year to be you, not them. We are going to take our clients to the next level of branding and blow their competition out of the water. Because we're us, not them. And us is a very good thing to be. Let me show you.
Click on the pictures below for further product info:
Didgaband™ App-Enabled Digital Band: Share your brand's message with thousands of people at once using the Didgaband. Engage your audience with the power of technology on this app-enabled digital message bracelet. Imagine what you can do with this. Exhibiting at Vidcon or another hot and huge event? Hand these out at the entrance and transmit your digital message to the crowd in an instant. Maybe you have a new product launch you want to create buzz and excitement over? Send these to your clients and ask them to wear them on a certain day, and then LAUNCH. New website? Amazing internal announcement? The uses for this are limitless and your clients will have never seen anything like it. Buzz? Oh yeah.
The El Hefe: The El Hefe is a Bluetooth speaker with a boom box look and feel. So 1980's! Love the retro awesomeness of this one. And with a full customized wrap, you can have your logo visible on every side. A carry handle is included, for easy travel. Best of all? Snag Your Swag will design the custom art for you to fully take advantage of this imprint space. Yeah, we do that. Nah, we don't charge for that. It's all part of being us, not them.
ASOBU REUSABLE STRAWS: Take reusable straws to a new level with this beautiful and unique retail set. Made of recyclable stainless steel these straws are equipped with a bendable silicone section giving you 360° degree access to your favourite beverage. The straws and flexible silicone sections tuck neatly into a convenient silicone carry holder. The attached strap makes it convenient to attach it where you need it. Not only will you be on trend, you will be doing good (important!) while being fashion forward and chic. This is what we call upping your game and it's what we do.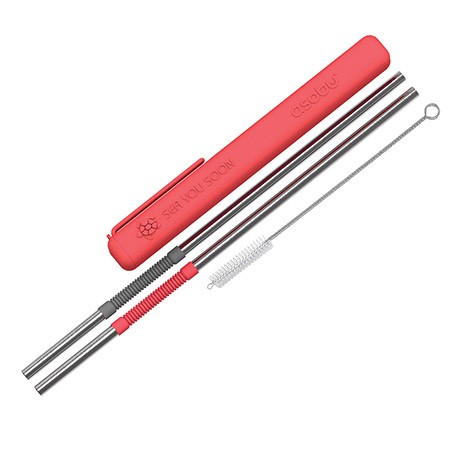 Light-Up-Your-Logo: Swag with illumination tech is so on-trend this year. I particularly love this wireless headset that was just released. Send us your logo and we'll light it up!
Light-up Your Logo Bluetooth Speaker:
Brockman Set: Personal and stylish, the Brockman Set comes with a 96-page notebook and brass hexagon pen. This handy wood clipboard set makes for a unique and functional gift anyone would be lucky to receive. We took one look at this and knew it was a hot pick. While everyone else is giving out journals, you'll brand this and rise above them all. Because you're you, not them.
Retail Brands: The industry continues to evolve from plastics to swag we all want to keep! Retail brands are a huge part of this. We are so thrilled we were at the forefront of this move away from cheap plastic stuff. That's not your brand! Your brand is elevated, cool, and doesn't end up in landfills! One great example I saw and fell in love with is this Thule backpack.
Speaking of retail brands, and sustainable swag, guess who is now available with your logo? Oh, just Kor®. You read that right!
Tech Drinkware: High-end drinkware incorporating bluetooth speakers into their design became a big tech trend in 2018. For 2019, tech drinkware reaches a new height by incorporating wireless charging! Love this one not only for elevating your brand, but for blowing everyone else out of the water. Which is pretty much the definition of Be You, Not Them.
Just some of our picks for best new corporate swag of 2019. We are going through samples, pictures, videos and notes to bring you more every day this month. In the meantime, check out our Hottest Trade Show Giveaways of 2019 showroom here, and our Hottest Corporate Gifts of 2019 showroom here. Constantly updated with the latest and greatest trends corporate swag.
---
Category:
Tags: unique corporate swag 2019, best trade show giveaways 2019, trending promotional items 2019, best corporate gifts 2019