Unique Corporate Gift Ideas 2018
As promised, today I am going to write about branding an experience, rather than just a gift. Evoking emotions is a powerful thing and evoking positive emotions is the best thing in the world. No matter what you are doing really.
It's nearing Memorial Day, the official kickoff to the classic American summer.
What do you remember most about your past summers? I have so many, some filled with joyful family events, some romantic, others amazing, laugh-filled events with great friends.
Crazily, none of those things came to my mind as I was writing that. All of a sudden I remembered this one summer I went bathing suit shopping. I am standing there in the dressing room trying on suits. And all I hear around me are women asking other women how bad they look. Like, "do my thighs look enormous?" " can you see my stomach?" "omg look at my cellulite!"
It was really getting to me because there is one thing I know besides Swag, and that is men, okay? I mean, not know know, like you should come to me for romantic advice if you are a straight woman or a gay man. I am probably not the first person to hit up for that. Me and successful romantic relationships are not a well-known pair. But I know them. And they are comedians, let me tell you. So I just know there are some beer-bellied men in their dressing room trying on Speedos and being all like "man look at me in this, the chicks are gonna go nuts!" "I won't be able to beat them off with a stick!" "where am I going to store ALL THEIR PHONE NUMBERS?"
So finally I said that! I just yelled it out. Ladies, I saw some of you coming in here and none of you are trolls! Guess what? One dressing room over they are marveling at how hot they are!
And you know what? There was a lot of laughing and one girl even said "yeah let's go get THEIR mirrors!" Yeah, lets!
Now, men reading this, don't get upset. I am sure this doesn't pertain to you.
And no, that was not the first time I've ever screamed in a dressing room, though it's usually "DID ANYONE SEE MY SUNGLASSES?" and "DID ONE OF YOU TAKE MY CAR KEYS?"
Anyway, getting back to why you are here, which I'm sure isn't to hear about my dressing room rants. And they're definitely not experiences you'd want to brand! Let's elevate your brand with some of the best corporate gifts of 2018 that will also be part of fabulous corporate gift experiences for your clients!
The YourBrella Experience
The first idea I want to show you is new and amazing! This is a real corporate gift experience. It is called "yourbrella". You receive codes, and you give these codes to your clients. They download the app, upload their selfie, or awesome scenic picture, or, whatever they want! choose from the golf or folding umbrella, and about 15 days later a unique umbrella is delivered right to them. Every umbrella will be unique, one-of-a-kind designs. This is such a out-of-the-box way to thank your clients and your employees. It is is obviously an awesome thing to do at your event of any kind. You can have your clients taking selfies at your booth or your corporate event and uploading them right there. What a great way to mark an occasion. Just contact us for more information and we'll help you deliver a buzz-worthy corporate gift experience for your 2018 event!
May is a great month to think about your brand on the beach, the boat, or the pool. In fact, this is something we do for our own clients. Every summer we choose a new beach tote, a sunscreen, SPF lip balm, sunglasses, and of course, a stainless steel tumbler to keep those drinks cold! And we send them to our clients. Add in a cute little beach-themed post card with "just add water and enjoy your summer!" and your clients will love you and think about you while having summer fun.
Let me show you the items we chose to send out in this year's mailing. You can click on the pictures for details and pricing:
The Cape Cod
This is a gorgeous beach tote that frankly, looks and feels more expensive than it is. I just love it.
20 Oz. Basecamp Tundra Bottle
This is the tumbler we're doing. 20 Oz. narrow mouth vacuum insulated bottle. Keeps contents COLD for 24 hours or HOT for 12 hours. Powder coat finish with copper lining, double wall 18/8 stainless steel. This is an awesome bottle, and available in gorgeous colors. We chose the Seafoam. It has an optional flip-top straw lid, and really amazing decorating options. We can do a full color wrap, or chiseling, or a mixture of several methods. We can really create your ultimate branded bottle with this.
1.9 Oz. Duo Bottle With SPF 50 Sunscreen And SPF 15 Lip Balm
This is the Sunscreen and lip balm duo we chose. We did this one last year too, and it was such a hit we decided to keep it. The lip balm snaps into the sunscreen, and it comes with a full color imprint on both pieces. The lip balm flavor choices are very cool.
Woodtone Mirrored Malibu Sunglasses
And these are the sunglasses we chose this year. These are up there with my five favorite sunglasses in the industry. They look really awesome on, incorporating two big trends; mirrored and woodtone.
Of course there's more to the summer than just the beach! It's all about being outdoors. For our outdoor experiences we would like to suggest items from the Basecamp line. The above tumbler we are doing as part of our beach gift this year, is from Basecamp. Here's why: Memorial Day is more than the summer kickoff of course, it's a day that we honor the men and women who died while serving in the U.S. military. A portion of the purchase of all Basecamp products benefits The Warrior Spirit Retreat, a veteran's retreat in Florida started by Dan Nevins. Dan is a vet dedicated to helping warriors heal in mind, body and spirit. AND, the Basecamp line is full of awesome. Truly some of the highest quality products in the industry. We have lots of lines that don't just look good, but DO good. I like that. This is one of them.
Basecamp® Hammock
Everybody loves a hammock! I know I do. Your clients and employees will love this while it creates positive feelings of relaxation, weekends, and summer for them. This is also one of Snag Your Swag's top picks for the best corporate gifts of 2018 - and a bestseller!
Basecamp® Camp Throne
This one is SO great for summer tailgating parties, beaching, little league games, camping, etc.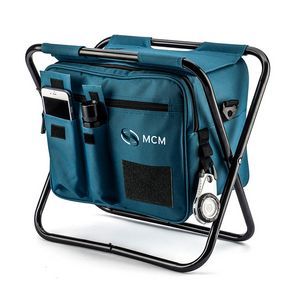 Basecamp® 6-piece BBQ Grill Set
BBQ, do I even need to add anything? I don't think so!
Hey, want to really up your game? Add in some branded BBQ sauce with that!
Basecamp® Magellan 4-Piece Gift Set
Searching for the curve of the earth? Or just going bird watching? Four-piece adventure gift set with 10 x 42 mm binoculars, compass, and multi-function tool.
Basecamp® Ice Block 20L Cooler
Whether you are beaching, boating, camping, tailgating, fishing, little-leagueing, you know you need a cooler!
These are just some of the ideas we have for corporate gift experiences. If you have a corporate event you would like to elevate, give us a call and we will work with you to personalize the perfect experience.
And of course don't forget to check out our best corporate gifts of 2018 showroom here.
---
Category:
Tags: unique corporate gift ideas 2018, corporate gift experiences 2018, best corporate gifts 2018, new corporate gift ideas 2018