The Top 13 New Corporate Gifts for Holiday 2019
We all know the holidays are coming. The most wonderful time of the year! Well, that's what they tell us anyway. I know you have a lot of stuff to do and I'm here to take one of those things off your plate. Don't sweat what to get for your 2019 client gifts. Snag Your Swag is kinda peerless at being on top of the latest and the greatest. Need the hottest corporate gifts of 2019? That's our thing.
We have clients to gift too, and I don't even waste time wondering what to get, I just know. It's a talent, and maybe compared to Hedy Lamarr who literally invented the internet (wifi actually), was a raving beauty, and a famous actor, it's not much of one. But we all have to make due with whatever our gifts might be.
I will tell you what does give me trouble - trying to make all my nieces and nephews happy. They kind of see me as Santa. No, not because I'm fat and white haired! I have a lot of stress with my family at the holidays. Listen, we all do, am I right? I remember one Thanksgiving, my dad took us to an expensive restaurant to give my mom a break, and my Aunt Eileen was trying to crack a walnut with a nut cracker, and that thing FLEW across the restaurant and smacked another patron right in the back of the head, and hoo boy, did a scene ensue. And that's just one of the few stories I can talk about publicly. I have some real beauts, believe me.
The stress of making my family happy can be really tough. One of my nephews was able to count his gifts before he could talk, and would throw a fit if my niece had more. What kind of a kid can count before he can talk? So, I know what you are going through. When it comes time for you to choose your corporate gifts, just come here. We know what just came out today, and what the hottest trends are, and how to employ an older classic to stun. We got you.
I am so excited about some of the newest corporate gifts that literally just came out this week. I love my job, I love my industry, and boy we are killing it with quality! Here is my list of the top 13 new client gifts for 2019. Click on pictures for further details:
1) The Welly® Drinkware Line
Just love this high-end, retail line now available for promo! This entire line features durable, double-wall stainless steel vacuum construction with copper insulation, which allows your beverage to stay cold for 24 hours and hot for at least 8 hours. AND, they all come with an amazing, removable stainless steel infuser! All that's left is choosing the style you love best.
2) Rechargeable Hand Warmer
Love this! Unique, cool, and useful. This is the kind of thing your clients are going to hold onto and bring with them to outdoor events all winter long. Where they'll think of you! Usually a good thing, right? Unless you have some creepy clients, I mean, I don't know.
3) Wireless Charging Padfolios
These beautiful, high-end, wireless charging padfolios are true stunners. This line comes in 3 different sizes and all are packaged in a sleek, black, gift box. We have the Arlington, which is basically the medium sized, and when we gift this to a client it evokes probably the best reactions we have seen. The Cambridge is the largest, and was just released this week. Then there is the petite beauty of the Berkeley. You simply cannot go wrong with any one of these. They are something special and when you put your brand on them and then give them to a client or employee, they know they're something special to you. Snag Your Swag cannot recommend these highly enough.
4) The Double Dip™ Bluetooth Speaker
The Double Dip is a wireless speaker that works up to 25 feet from your connected device. Featuring built-in dual woofers, this speaker provides great sounds quality and a classy, hip look. We love it in the original wood-look finish, and in the new full color wrap model! If you need some help with your art for the full color wrap option, don't worry, we got you.
5) The Best New Backpack Releases
Backpacks are still among the best, trendiest, most useful, and coolest corporate gifts you can get. They are especially desired and used by millennials. With this in mind, I want to show you some of the absolute coolest new options in backpacks. Just click on the pictures for details!
6) The Little Luxuries Set
Wellness isn't something I would want to call a trend, so I would say that people are more aware of their wellness than ever. We live in stressful times, we have stressful lives. This Little Luxuries Set shows care, and encourages being kind to yourself. And darn it smells sooo good!
7) Fitness & Activity Tracker Wristband
One of our finest and my favorite model was just released.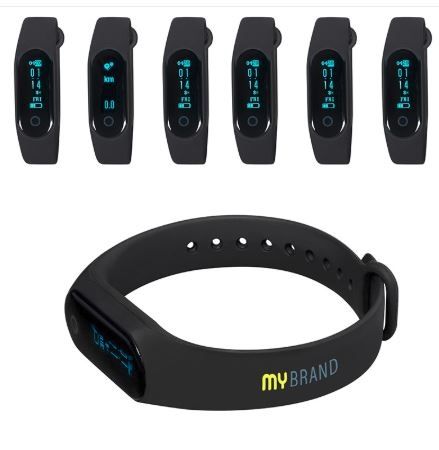 8) Vox Beanie with Wireless Headphones
Oh gosh I just love this brand new tech beanie with wireless headphones. If you're looking for a hot tech trend item for your employees this year, stop drilling.
---
Category:
Tags: hot corporate gifts 2019, best corporate gifts of 2019,