The Best Company Swag For Your 2019 Events
If you're here browsing, you're likely looking to elevate your swag. You're not alone, that's how most of our current clients found us. Tired of looking through thousands of cheap plastic items on sale, they looked a little deeper and found Snag Your Swag. Elevating brands is what we do. If you're looking for that .36 cent plastic pen but want to see it if you can find it for .34 cents, you're in the wrong place.
If you're looking for the latest trends, and the kind of swag that doesn't get dumped by the trade show exit, you're home. We get you and we know that you'll get us. Basically, we're gonna make one cute couple.
Okay, introductions aside, let's get to it. What is the best company swag for your 2019 trade shows and conferences? The kind of trade show giveaways and conference swag that will draw people to you, and have them walk away with a lasting (good!) impression?
We've got that.
First off, let's look at the big light up your logo trend. This began last year with the logo light pens, and has just exploded into tech and even drinkware. You want to get in on this in 2019 especially if your brand wants to attract millennials and younger. No guess work involved for you on this, because here are the latest and the greatest light up logo swag. Click on pictures for further details:
Love these new light up bluetooth earbuds. These just arrived this week and they are so on point!
This Light-Up-Your-Logo charging cable set is a fantastic way to get into this trend at a great price point with something people will use and keep!
Light-Up-Your-Logo Duo USB Wall Charger. Who wouldn't want one of these? And it will stay in the wall socket, not the garbage can!
Love this Light-Up-Your-Logo tech gift set! This has it all to light up your brand!
And check out this awesome stainless steel bottle with your logo lit up!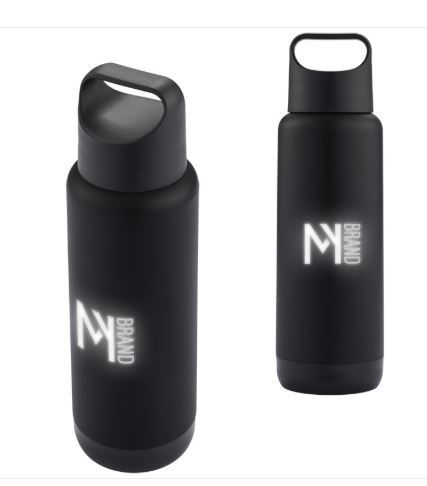 The above are all new this month, so as you can see the Light-Up-Your-Logo trend is gaining steam. Please be aware that in order for any of the light-up swag to work properly, they need to be laser engraved, not pad printed. We have tons more options so give us a ring if you would like to explore this trend further.
Let's move on to another new trend in company swag for 2019. This one is a great example of taking your brand next level. Why give out an awesome bottle and not put it in an equally awesome package?
Oh yeah, retail-level packaging for branded drinkware is on the scene big time!
Snag Your Swag has lots of new choices for this trend, but I am going to show you my personal favorite. The cylindrical packaging is so gorgeous but so is what comes inside. One of my favorite bottles, the Hugo Auto-Seal. This is an amazing pairing and will take your brand upscale with a beautiful whisper. No one needs to shout, or point; one look and everybody knows. It's that certain je ne sais quoi, as they say.
Hot tech swag for your 2019 trade shows and conferences? I love this one just out this week. This marries the circa-2018 trend of power banks with built-in cables, and the huge 2019 wireless charging trend. And yeah, they're having a hot honeymoon, barely leaving the room and ordering in food, but guys? I think this one is going the distance:
---
Category:
Tags: best company swag 2019, best tradeshow giveaways 2019, hottest promotional items 2019