Promo Products that Bring the Fun: The Best Custom Games and Playful Promo Products
When people are having fun and interacting with your brand, they're more likely to remember it and tell others about it. We kept this in mind while walking the miles of new and exciting swag at the New Product Expo, and paid attention to hot new custom game trends that will add a little fun to your events! So what did we find?
One of the biggest trends in games is ax-throwing, a relatively new and exciting sport that is gaining popularity. Now, we can't all be Aquaman himself, Jason Momoa, throwing real axes. We don't want any missing fingers, or worse, heads! But that doesn't mean you can't incorporate this really fun pastime into your brand.
We can put your company's logo on foam axes and targets! Perfect for team building events, corporate events, or as a unique and fun giveaway. Not only it is a fun activity but what a conversation starter!
Here are the top ideas for customized games in 2023:
1) Foam Ax Game
2) Golf Putting Game
3) Cornhole Beanbag Game
4) Full Color Playing Cards
5) Unique Stress Balls
6) Customizable Frisbees
7) Miniature Basketball Hoop Set
8) Pickleball
Click on any picture below for more details and ordering info!
Ax throwing is a hot new sport that is only gaining popularity. You can have your company's logo printed on the game making this fun new pastime the perfect swag for team building events, corporate events, or as a unique and fun giveaway. Not only it is a fun activity but also it will be used as a conversation starter and it will be a memorable gift for your clients and employees. Create that event buzz!
Introducing the Custom Golf Putting Game - the perfect addition to any trade show booth or outdoor event! The Custom Golf Putting Game is the perfect way to attract traffic to your trade show booth and make your brand stand out. Its interactive and fun nature will draw in potential customers, giving you the opportunity to showcase your products and services. By offering prizes for hole-in-ones, you can create a sense of excitement and competition that will keep visitors engaged and coming back to try their luck. This not only adds a fun element to your booth, but also provides an incentive for visitors to spend more time at your booth and learn more about your business. And you know this will create some social media buzz!
The Custom Cornhole Beanbag Game - the ultimate addition to any outdoor event or party! This exciting and fun game is available in both regulation size and mini size, catering to all your needs. The regulation size features a durable and high-quality platform, built to last and provide endless hours of entertainment for players of all skill levels. The compact mini size is perfect for those who have limited space or for those who want to take the game on the go. The full color custom design allows for yourlogo or message to be prominently displayed on both the regulation and mini size, making it great for any corporate event!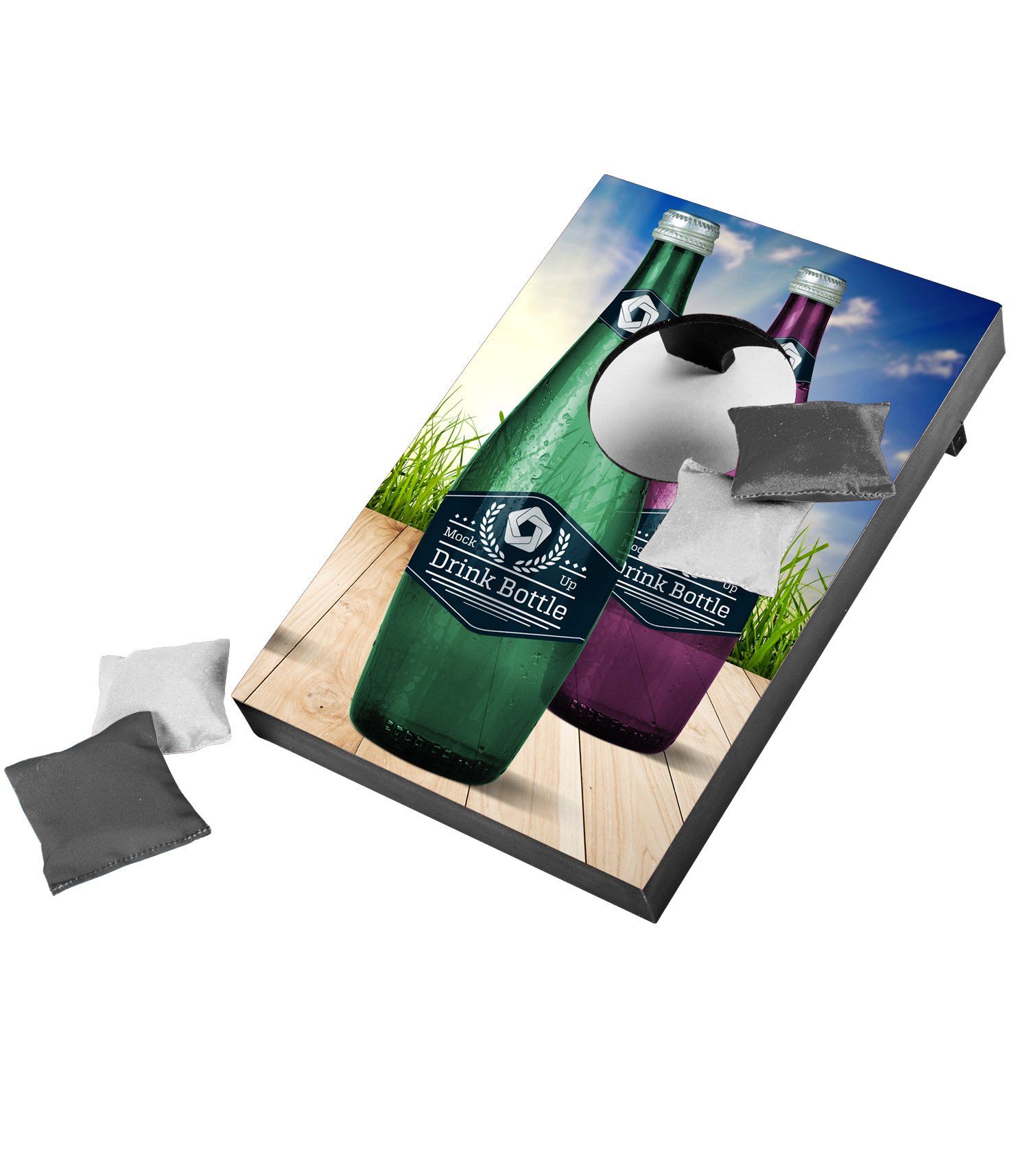 Make your trade show booth stand out with the Custom Full Color Playing Cards. These high-quality playing cards are fully customizable, allowing you to showcase your company logo or message on every card. The large imprint space on the back of each card is perfect for displaying your brand and making a lasting impression on potential customers. Everyone plays cards - with friends or solitaire!
Stress balls can be fantastic event giveaways if they are new and different. This unique and fun stress ball is sure to be a hit with attendees. The stress ball is shaped like a cat and filled with flexible gel beads that pop out when squeezed. A lot of fun!
Looking for a fun and unique way to promote your brand? Look no further than the Push Pop Stress Reliever Flying Disc! This innovative product combines the stress-relieving properties of a traditional stress ball with the fun and excitement of a frisbee-like flying disc. The unique push-pop feature allows you to easily release the push pops, providing a satisfying and stress-relieving sensation. The flying disc shape also makes it a fun and interactive game for all ages, perfect for outdoor events and trade shows.
Score big at your next event with the Custom Miniature Basketball Hoop Set! This fun and interactive game is perfect for trade shows, corporate events, and even backyard parties.
Get ready to rally with the Custom Pickleball Game! This exciting and fun game is perfect for trade shows and corporate events! This game is built to last and provide hours of entertainment, or until someone gets a little too competitive and starts throwing the balls at their opponents.
---
Category:
Tags: promo item trends 2023, custom games with logo